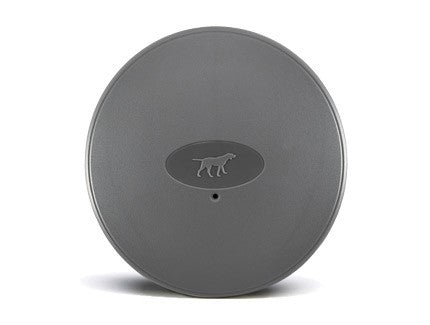 MB-1 DogWatch Indoor/Outdoor Wireless Mobile Boundary
By DogWatch
This versatile battery-operated mobile boundary can be used either indoors or outdoors to create a pet-free zone. It is waterproof for outdoor use and it has a rechargeable battery. It is wireless (used without a boundary wire), so it is easy to set up wherever you need it. The MB-1 creates a pet-free zone up to 8 feet in diameter (4 feet from the center). If you want a portable boundary that can be used anywhere to protect a small area (trash, counters, furniture, flower gardens, sandbox, etc.), this is a perfect choice. Works with all DogWatch FM receivers.
Indoor/Outdoor protection can supplement the DogWatch outdoor hidden fence, or can be used without outdoor protection. If you currently use the DogWatch outdoor system, the receiver/collar for that system can be used with this indoor transmitter.
If you do not use the DogWatch outdoor system, you would need to order the indoor transmitter with either a DogWatch [R7 mini receiver - click here] or the DogWatch [R9 receiver - click here].
Note: The MB-1 is designed for use with either the DogWatch™ System 3000 or the DogWatch™ Performance Series System and Smart Fence. 
We are an authorized distributor of DogWatch for our customers in Westchester (NY), Putnam (NY) and New York City. Installation service is also available.
Please Note: We can not honor orders or ship this item outside our authorized distribution area.
If you are outside of these areas, please contact the DogWatch Company at 800-793-3436, or visit their website: www.dogwatch.com