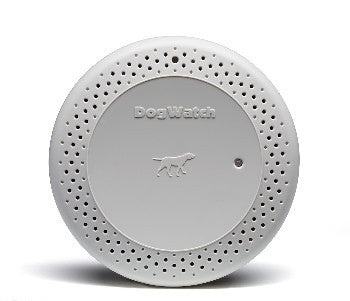 DogWatch (Plug-in or Wired) Indoor Boundary IB-200
By DogWatch
The IB-200 is our most flexible solution to keep your pet safe inside. This transmitter can be used either with or without a boundary loop wire. You can install the IB-200 with a wire to protect a large defined indoor area or you can use it without a wire to protect smaller areas up to 10 feet in diameter.
Place near a door entrance (optional mount on wall, under stairs, etc.). Requires a standard electrical outlet for plug-in. Also great for placement near a cat litter box, to keep your dog away!
Indoor protection can supplement the DogWatch outdoor hidden fence, or can be used without outdoor protection. If you currently use the DogWatch outdoor system, the receiver/collar for that system can be used with this indoor transmitter.
If you do not use the DogWatch outdoor system, you would need to order the indoor transmitter with either a DogWatch [R7 mini receiver - click here] or the DogWatch [R9 receiver - click here].
Note: The IB-200 is designed for use with either the DogWatch™ System 3000 or the DogWatch™ Performance Series System. If you have an earlier system model or general questions please contact us at 1-800-PET GIFT (1-800-738-4438) for assistance, Monday thru Saturday, 10 a.m.-5 p.m. eastern time.
We are an authorized distributor of DogWatch for our customers in Westchester (NY), Putnam (NY), Greenwich (CT), New Canaan (CT), Stamford (CT), Darien (CT), Cos Cobb (CT), and New York City. Installation service is also available.
Please Note: We can not honor orders or ship this item outside our authorized distribution area.
If you are outside of these areas, please contact the DogWatch Company at 800-793-3436, or visit their website: www.dogwatch.com