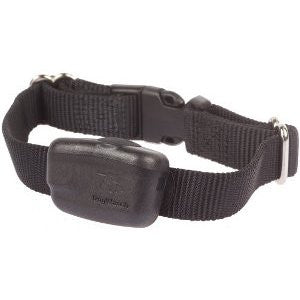 Description
This lightweight, waterproof receiver collar is tuned to receive only a signal from the boundary wire (designed to be used only with DogWatch® Hidden Fence System 3000; the new Performance Series; and DogWatch® I-50 (fm) indoor transmitters). Patented SafeLink™ FM digital technology completely protects your pet from unintentional correction. If your dog gets within 5 to 10 feet of the wire, (the range is adjustable), an audible warning from the collar reminds your dog not to cross the boundary. If the warning is ignored - rare after training - the collar emits a mild stimulation that you can easily adjust.

The DogWatch® R-7mini receiver/collar comes complete with a 3v lithium battery that provides 6 months of continuous use. It is easily programmed to provide up to seven levels of correction to accommodate all breeds and personalities and includes an "audible only" option. The collar strap is adjustable and features a quick snap buckle, and is black. We also carry replacement batteries, that come directly from DogWatch to ensure highest quality, and freshness. Replacement batteries and collar straps are available, as needed. Lifetime warranty on receiver.

Please be sure to order the correct size collar for your dog (see Receiver Choices tab above). This smaller profile receiver collar is ideal for small dogs and cats. If a larger dog requires a stronger correction we recommend the [R-9 receiver - click here] collar (though both models have 7 levels of correction, the higher level is a little stronger on the R-9 model).

Available collar sizes: X-Small (9"-12"), Small (12"-17"), Medium (16"-24"), Large (19"-31")

If you have any questions or require assistance prior to ordering, please contact our customer service department at 1-800-PET GIFT (1-800-738-4438), Monday thru Saturday, 10 a.m.-5 p.m. eastern time.

We are an authorized distributor of DogWatch® for our customers in Westchester (NY), Putnam (NY) and New York City. Installation service is also available. If you are outside of these areas, please contact the DogWatch Company at 800-793-3436, or visit their website: www.dogwatch.com
Please Note: We can not honor orders or ship this item outside our authorized distribution area.
Receiver Choices
The smaller profile R7 mini receiver collar is ideal for small dogs and cats.

If a larger dog requires a stronger correction we recommend the R-9 receiver collar
Note: Though both models have 7 levels of correction, the higher level is a little stronger on the R-9 model.
Features
SafeLink®
Our patented digital FM technology provides the maximum protection against false activation caused by stray radio signals. DogWatch is the only pet fence system that offers FM technology – and that makes DogWatch the most secure hidden fence available.
FastReact®
DogWatch has the fastest reaction time in the industry. If your dog runs at the boundary, the receiver reacts with the warning signal before he reaches the wire, not while he is traveling over it.
AutoMemory®
This patented safety feature automatically adjusts the receiver's correction level if your pet challenges the boundary. This discourages additonal boundary challenges. The receiver automatically resets to the original level after 24 hours without a boundary challenge.
TattleTale®
This safety feature let's you know if your pet challenges his boundary. If your pet activates the audible alert or receives a correction, the status light on the receiver collar will double flash instead of the usual single flash. If this happens frequently, you may may need to adjust the boundary or receiver settings. The receiver will reset to the single flash after 24 hours without a boundary challenge.
Audible Warning
All DogWatch systems include an audible warning to alert the dog that he is approaching the boundary. Your pet will learn to stop at the audible warning before he reaches the hidden wire.
Status Light
Only DogWatch offers a status light to confirm that your pet's receiver is functioning properly. It also lets you know when the receiver battery is low and if your pet has recently challenged the hidden fence. This important feature provides valuable information to help ensure your pet stays safely in your yard.
Automatic Shutdown
The DogWatch system is designed to protect your pet from an over-correction in the unlikely event that your dog stands in the signal field and does not quickly exit. The receiver will also automatically reset once the dog leaves the signal field.
High Impact, Waterproof
The DogWatch receiver is tested to withstand the harsh outdoor elements of rain, sleet and snow . . . as well as rigorous play!