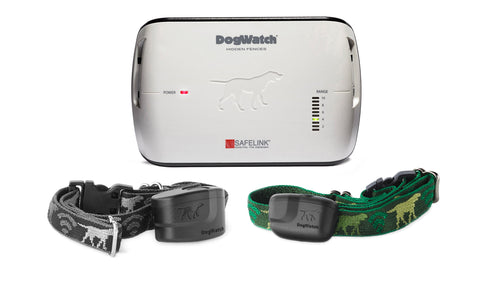 DogWatch Performance Series Outdoor Hidden Fence System Self-Install Kit without Receiver/Collar
By DogWatch
See Spot Stop - running away, and chasing cars! Best of all, your dog can run and play throughout your entire yard without being tethered (and tangled). The DogWatch® Hidden Fence System is a proven way to keep your dog on your property 24 hours a day. It's been thoroughly tested for safety, and veterinarians throughout the U.S. use DogWatch® to protect their pets and recommend it to their clients. The system works with all breeds five months or older. It's effective after just a few simple training sessions, and there's no limit to the number of dogs a system can watch. Unlike a wooden or chain link fence, your dog can't jump over or dig under it. And a DogWatch® Hidden Fence can cost substantially less than traditional fencing.
A complete self-install system kit includes a transmitter with an AC adapter (plugs into a standard household outlet); a transmitter wire with clip; a DogWatch lightening surge protector; an owners' manual and training booklet. You can order perimeter wire; flags and receiver/collars separately. If you have any questions or require assistance prior to ordering, please contact our customer service department at 1-800-PET GIFT (1-800-738-4438), Monday thru Saturday, 
Hours: 10 a.m.- 5 p.m. eastern time.
For additional information and to order the [R9 receiver - click here] and [R7 mini receiver - click here] please refer to the descriptive information provided for each receiver.
Note: To ensure that you receive the correct size collar for your pet(s), please be sure to measure the circumference of the middle of your pet's neck. The collar strap size selected should be in the adjustable range provided.
We are an authorized distributor of DogWatch® for our customers in Westchester (NY), Putnam (NY) and New York City. Installation service is also available. If you are outside of these areas, please contact the DogWatch Company at 800-793-3436, or visit their website: www.dogwatch.com
Please Note: We can not honor orders or ship this item outside our authorized distribution area.