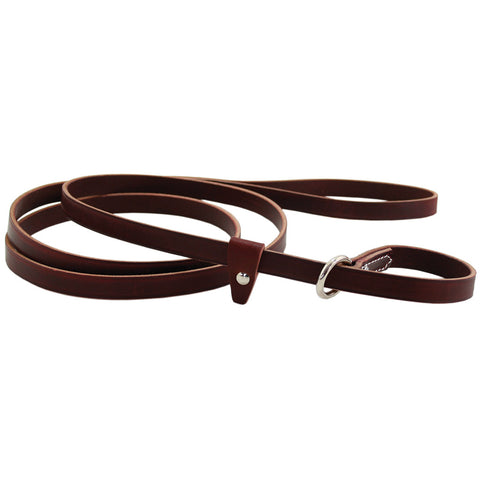 Auburn Slip Leash - Leather
Quick on and quick off makes this a useful dog leash when you need a leather leash for moving a dog from the kennel to the house. Also nice when traveling, this slip leash will easily slip on and off the dog without the fuss of a snap. Using only fine quality full grain latigo leather, we bevel the edges for added comfort. Assembled with a nickel-plated welded "O" ring, both the handle and snaps ends are stitch and then reinforced with smooth capped rivets. With use, this leash will become even softer and more pliable.
The edges of the 1/4″ Kennel Slip Leashes are dyed and sealed to match while the edges of the 5/8″ sizes are unfinished. Both will soften beautifully to become incredibly comfortable with each use.
Options: 1/4″ x 48″ Black, 1/4″ x 48″ Burgundy, 5/8″ x 72″ Burgundy, and 5/8″ x 72″ Black
Related products