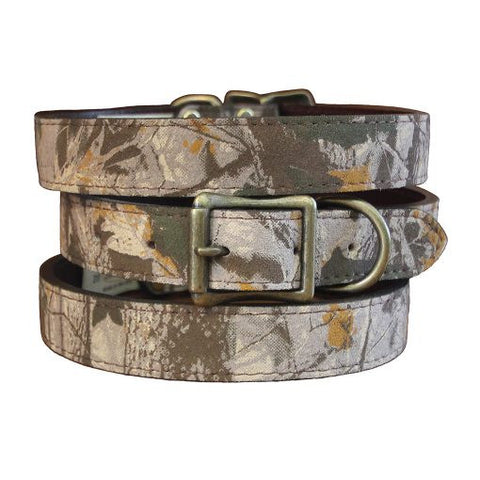 Auburn Camouflage Collar - Leather
Designed to blend in, this leather Camouflage Collar won't get you spotted!
Lined with sturdy, long-lasting bridle leather, this leather collar is finished with antiqued hardware.

Color: Earth Camouflage. Matching Leash available, click here

Sizes:
1/2″ x 8″ and 10″

5/8″ x 12″

3/4″ x 14″ and 16″

1″ x 18″, 20″, 22″

1" x 24″ and 26″
As you find the right size collar for your dog, keep in mind that our measurements are from the center bar of the buckle to the farthest hole and that you will be able to adjust the collars down from there.
For proper dog collar sizing, please reference the guidelines below. Adjustment Ranges:

16″ adjusts 13″ – 16″
18″ adjusts 14″ – 18″
20″ adjusts 16″ – 20″
22″ adjusts 18″ – 22″
24″ adjusts 20″ – 24″
26″ adjusts 22″ – 26″
Related products