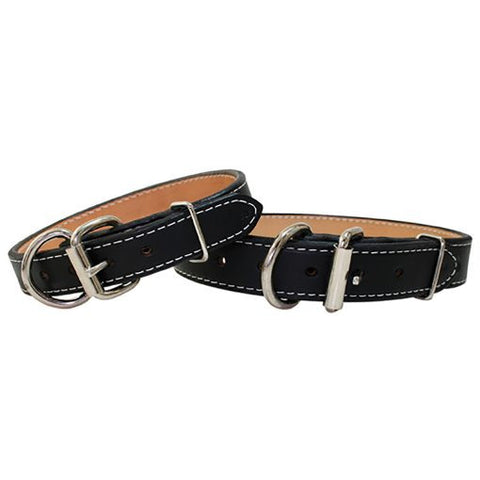 Auburn GI Collar - Leather
The GI Collar is the best leather collar for strong and big dogs.
Originally, this double layer leather dog collar was supplied for dog handlers at the former Plattsburgh, NY Air Force Base, which explains the name, GI. Constructed of not one but two layers of high quality full grain bridle leather with an extended dee ring pattern for additional strength. The layers are stitched together with heavy-duty nylon thread and the edges are beveled and hand finished to assure comfort. Bright nickel-plated welded dee ring and strong roller buckle with a wire tuck loop keeper and smooth capped rivets complete the assembly. (For proper dog collar sizing, please reference the guidelines below). Proudly Made in the USA!

GI Leather Dog Collar Sizes:
1″ x 18″, 20″, and 22″

1 1/4″ x 24″, 26″, 28″, and 30″
Adjustment ranges:

18″ adjusts 16″ to 18″
20″ adjusts 18″ to 20″
22″ adjusts 20″ to 22″
24″ adjusts 22″ to 24″
26″ adjusts 24″ to 26″
PLEASE NOTE THAT THIS COLLAR TENDS TO RUN APPROXIMATELY 1/2″ SMALL. WHEN IN DOUBT, CONSIDER ORDERING THE NEXT LARGER SIZE.

Keep in mind that measurements for this collar are from the center bar of the buckle to the farthest hole and that you will be able to adjust the collars down from there.



Related products