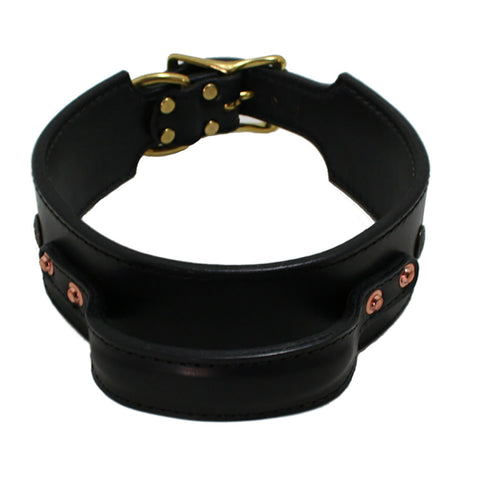 Auburn Quick Grab Trainer's Collar - Leather
Constructed of full grain bridle leather with brass and copper hardware, this collar makes getting a hold of your large dog quick and easy. The edges of this leather collar are beveled and hand polished. The quick grab collar is available in incredibly durable black bridle leather.
Two Layers make this collar super strong. 

Sizes: 2-3/8″ x 18″, 20″, 22″, 24″, 26″
Adjustment ranges:
18″ adjusts 16″ to 18″

20″ adjusts 18″ to 20″

22″ adjusts 20″ to 22″

24″ adjusts 22″ to 24″

26″ adjusts 24″ to 26″
Important Sizing Note: Larger width collars tend to run small. When in doubt, we recommend ordering the next larger size.
Related products