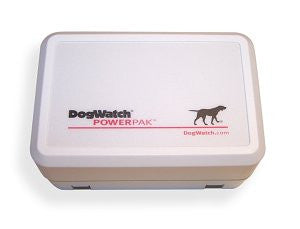 What do you do when the power goes out? Absolutely nothing. The Power Pak™ automatically provides up to 8 hours of standby power. Plugs directly into the DogWatch® Performance Series Transmitter. Compact design - 4.25" wide, 2.82" high and 2.25" deep.
We are an authorized distributor of DogWatch® for our customers in Westchester (NY), Putnam (NY), Greenwich (CT), New Canaan (CT), Stamford (CT), Darien (CT), Cos Cobb (CT), and New York City. Installation service is also available. If you are outside of these areas, please contact the DogWatch Company at 800-793-3436, or visit their website: dogwatch.com.
Please Note: We can not ship this item outside our authorized distribution area.