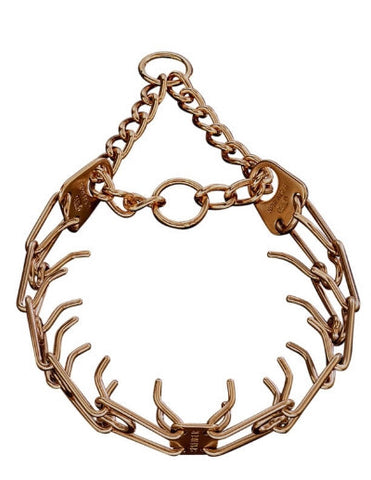 Ultra-Plus MartingaleTraining Collar - Curogan
Everything offered by the Ultra... PLUS the exclusive Sprenger Center Plate!
These professional training collars are considered the "platinum choice" when it comes to training collars, because they also incorporate the Herm Sprenger patent pending Ultra-Plus center plate. The addition of this center plate provides equal pressure to be synchronized on both sides of the collar, optimizing communication with your dog and is less abrasive to the fur.
Like the Ultra Training Collars, they are made of the highest quality design and components, as well as the most exacting manufacturing processes. Used properly, this is a very effective training tool to correct inappropriate behavior, and to teach the fundamentals: Sit, Stay, Come and Heel.
Ultra Plus Training Collars also feature rounded tips for your dog's comfort. It should be noted that lesser quality collars, available from other manufacturers, usually have sharp and pointed cut edges. Herm Sprenger is dedicated to producing only the finest quality training tools and does not compromise to cut corners, because they know low quality products may risk injury.

CUROGAN collars are not only great looking but they also have anti-allergic features! CUROGAN is a patented copper alloy specially developed for dog collars to provide an alternative for dogs that react to wearing conventional metal collars that might cause fur discolouration.
Proper fit is very important to obtain optimal performance, as well as ensure your dog's wearing comfort. The collar should sit high up on your dog's neck, just behind his ears. To Increase or Decrease the size of your dog's Herm Sprenger Prong Collar simply add or remove extra prong links.
Sizing: 
We recommend that you use the prong training collar size recommended by your dog trainer or consider the following general size guidelines
| | | |
| --- | --- | --- |
| Dog Size | Collar Size | Link Size |
| Small Dogs - Up to 25 lbs. | Small | 2.25 mm |
| Medium/Large Dogs - 25 lbs. to 70 lbs. | Medium/Large | 3.2 mm |
| Large/Extra Large Dogs - 70 lbs. to 160 lbs. | Large/Xtra Large | 3.9 mm |