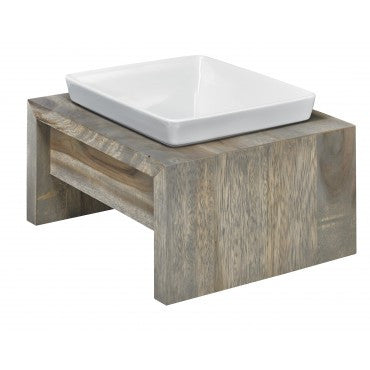 Artisan Single Diner - Fossil Grey
By Bowsers
Natural Wood Feeder!
Pet dining has never been so refined! Japanese inspired, simple, clean lines create a contemporary look.
The unique grain and natural beauty of hand crafted Rubberwood Artisan Feeders enhanced by soothing neutral finishes creates a rich, chic look. The Artisan Feeder is a new sophisticated option to today's bulky, utilitarian stainless steel feeders. Contemporary modular design - combine double and single feeders to create endless combinations based on the number of dogs and needs. Stylish square shaped white ceramic bowls are dishwasher safe and lead free. Replacement bowls are available.
Modular design - add on to double feeders for additional dogs or for separate water bowl. Stand has anti slip cushioned feet.
Sizes:
| | | | |
| --- | --- | --- | --- |
| Diner Size | Diner Dimensions | Bowl Size | Capacity |
| Extra Small  | 6"L x 6"W x 2"H | 4.25" x 4.25" x 1.75" deep | Holds 3/4 cup |
| Small | 7"L x 7"W x 4"H | 5.25" x 5.25" x 2.25" deep | Holds 1 cup |
| Medium | 10"L x 10"W x 6"H | 7.25" x 7.25" x 3.25" deep | Holds 3-3/4 cups |
Related products