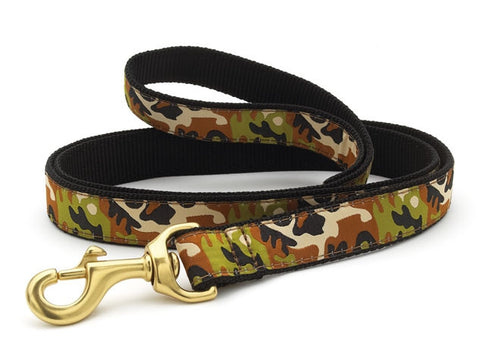 Dress your dog in UpCountry Style! Over 100 beautiful designs.
UpCountry products consist of a wide variety of decorative polyester/nylon ribbons that are sewn onto high-tensile strength nylon webbing straps to form collars and leashes that can be not just color-coordinated, but pattern-matched as well!
UpCountry leads are made with solid cast brass hardware and high-tensile strength nylon webbing that will hold dogs up to 80 pounds. Available in 4 foot and 6 foot lengths.
Ribbons are stain and fray resistant; designed to last a lifetime.
Machine wash gentle cycle cold water, air dry. Made in the USA.
Note: Never use UpCountry leads to tie out your dog.
Sizing:
| | |
| --- | --- |
| 4' Length | Narrow Width (5/8") |
| 4' Length | Wide Width (1") |
| 6' Length | Narrow Width (5/8") |
| 6' Length | Wide Width (1") |
Related products