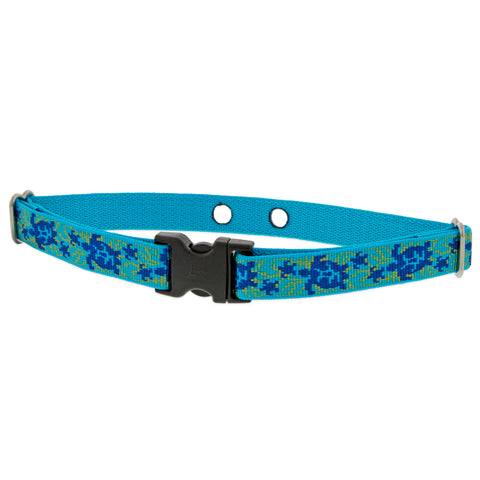 DogWatch Receiver Replacement Collar 3/4" - Turtle Reef
By Lupine
It's a good idea to change the Dog Watch collar strap periodically, to keep it clean and looking new. And now you can choose from an extensive selection of beautiful and quality straps, made in the USA. These adjustable collars are authorized by DogWatch® for use with their Dog Watch receivers.
The Lupine DogWatch collar features two heat sealed holes.
Very important: Please carefully measure your dog's neck size to ensure proper fit (Lupine designer collars run larger than DogWatch original collars). 
Hole Spacing: 1.25″ Hole Diameter: .375 (3/8″)
3/4" collars fit DogWatch R7mini, R7, and R6 receiver - see below:
Identify your DogWatch receiver:
      R7 Mini Receiver          R7 Receiver